We pride ourselves on the quality of our products as one of the leading manufacturers of Plywood, Blockboards and Flush-doors in the North-East.
BWP Marine Plywood - IS 710
Bulandply™ marine grade is manufactured using quality birch-wood specially treated to withstand….
Bulandply™ BWR plywood is made from hardwood birch core veneer and gurjan wood face veneer which……
Film Face Shuttering Ply - IS 4990
Shuttering Ply is BWP grade plywood treated with preservatives and mainly used during construction when…..
Bulandply™ MR is a premium product made from the very best seasoned wood and selected core veneers. The layers are bonded with phenol formaldehyde ……
A premium product made from the very best seasoned wood and selected core veneers. The layers are bonded with phenol formaldehyde resin……
Made from specially selected, treated and seasoned Meghalaya pine wood as solid core, hardwood as core and face veneer, the durable Bulandply™…….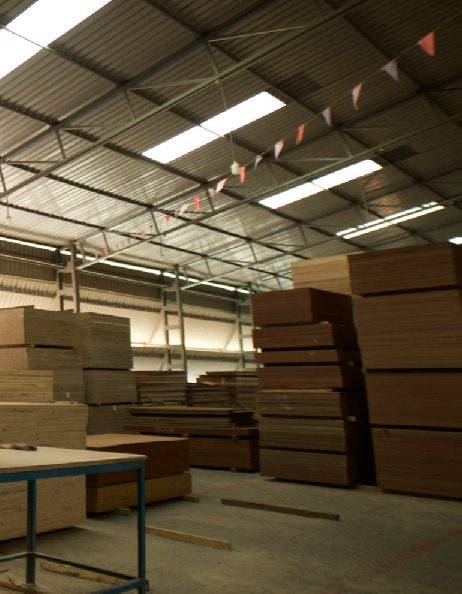 Buland Ply is one of the leading plywood manufacturing companies in North-East India with its head quarters in Guwahati.
With over 600 tons of products shipped through our distribution channels every month, we pride ourselves on the quality of each of our offerings which is aided by the proximity of the manufacturing units to the rich natural resources of Nagaland and Meghalaya which enables the industry to source high-quality timber and do the final processing in Guwahati, the industrial hub of the North East. As a matter of course, we take great pains to ensure that the manufacturing process takes every possible step to ensure the final product is up to the highest possible standard, as we work to earn our trust and reputation among our consumers, namely the central and State departments, various public sector undertakings and civil contractors.

Made with handpicked super grade logs, Bulandply™ Tetra Tech is the most premium plywood available in the product line. Its gapless construction coupled with our bonding process give it unmatched durability and strength and has been extensively tested in our R&D lab to ensure it meets the highest quality standards for use in construction, furniture and more with a 100% lifetime guarantee.

Bulandply™ Platinum is a product of cutting edge research and innovation. Made with alternate layers ofGurjan core and face veneers, this plywood variant has an A+ grade and uses specially selected mature wood and bonded with strong resin to make highly durable, treated to make it resistant to temperature changes, warping, moisture and is highly versatile in its usage for commercial projects.
The Core Veneers are made from Meghalaya hardwood and Birch while the face veneers are made from Gurjan. This variant has a B+ grade and has a high economy while still maintaining its strength and durability and, like all of our products, is tested extensively in our labs. Suitable for the budget minded consumer without the compromise on quality, Bulandply™ Gold has proved to have remarkable performance with a vast range of applications.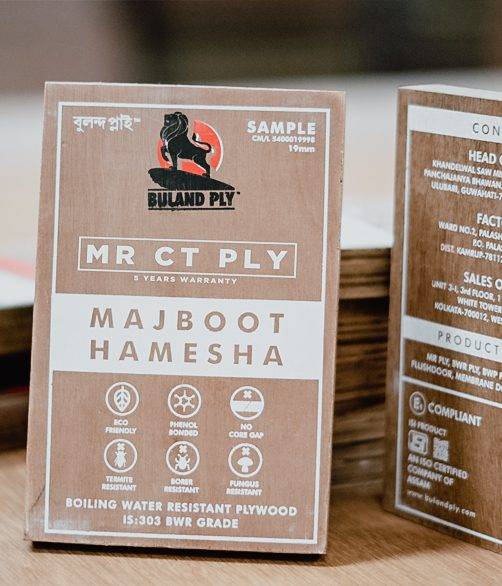 MR CT ply is an upgraded version of commercial ply with the layers bonded using superior melamine urea formaldehyde resin. This change in the bonding process gives our plywood enough strength to resist warm water for up to 8 hours. Bulandply™ MR CT ply is specifically treated for superior resistance and a lifetime of performance. We highly recommend it for all types furniture, interior decoration, wall paneling, ceilings, laminations and paint finish.